Maseras Research Group Community home page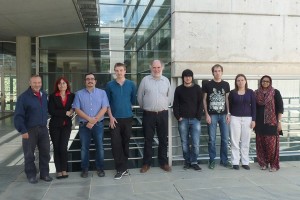 Computational chemistry, in particular DFT and DFT/MM methods, are applied to the study of a variety of chemical processes of practical interest with the goal of understanding reaction mechanisms and applying this knowledge to the design of more efficient processes. The main focus of research is homogeneous catalysis in collaboration with experimental groups.
Studies have been carried out on the proton-transfer mechanism for palladium-catalyzed arylation, the gold-catalyzed synthesis of conjugated enones, and the organocatalyzed dynamic kinetic resolution of sulfoxides. Topics of supramolecular catalysis have been also studied in the case of a cucurbituryl-catalyzed "click" reaction and the structure of dipalladium anion receptors.. The validity of the computational methods for the particular problems under study was calibrated by analyzing the quality in the reproduction of the structure of agostic niobium complexes.
Collections in this community